How do I schedule the appointment with you?
You can reach me by phone at 978-482-7480 or email me at gracechen@drgracechenlmft.com. You can also submit the request on my "Individual Therapy" and "Couple Therapy" pages. There is also a contact form in the bottom of this page.
Do you offer consultation?
I do offer 15-min consultation. You don't have to make an appointment. Please call between 12-1 pm on Tuesday, Wednesday, Thursday, or Friday if you wish to have a phone consultation to determine whether my service fits your needs.
What is the process for scheduling an appointment with you?
My office hours are Tuesday to Friday, 9 am to 6 pm. Please identify what time of the day and what day of the week, and when you would like to start receiving services. I will send you my available time that fits your time frame. I also request you leave your email and phone number to set up my client portal.

Once we have a date and time for the intake, I will send you an email link to complete all the intake paperwork online. You fill out the paperwork at least 24 hours before the appointment so that I can review them before our session.

You show up at the time of your appointment.
What is your office hour?
Tuesday, Wednesday, Thursday, and Friday, 9 am to 6 pm.
I only accept fully vaccinated clients for in-person office sessions.
Do you take insurance? How much is the cost of the session?
My fee schedule is as follows:
Initial intake assessment: $180/hour
Ongoing Therapy sessions: $160/hour
I do not work with insurance companies directly. I am an out-network provider for most of the insurance PPO plans. 
There are a few options for your financial considerations.
1) If you have a flexible spending account (FSA) or health spending account (HSA), you can pay the session fees with your flexible spending account. Please note that HSA or FSA only covers copays and individual therapy. HSA and FSA do NOT cover couple's therapy;
2) If you have a PPO plan with the "out-of-network" benefit, I can also give you the receipt to file the reimbursement from your insurance company. This is an excellent way to choose the provider you want without being limited by the insurance company. I can walk you through the steps to file the out-of-network benefit independently. The following diagram shows you the process of checking your out-of-network benefit.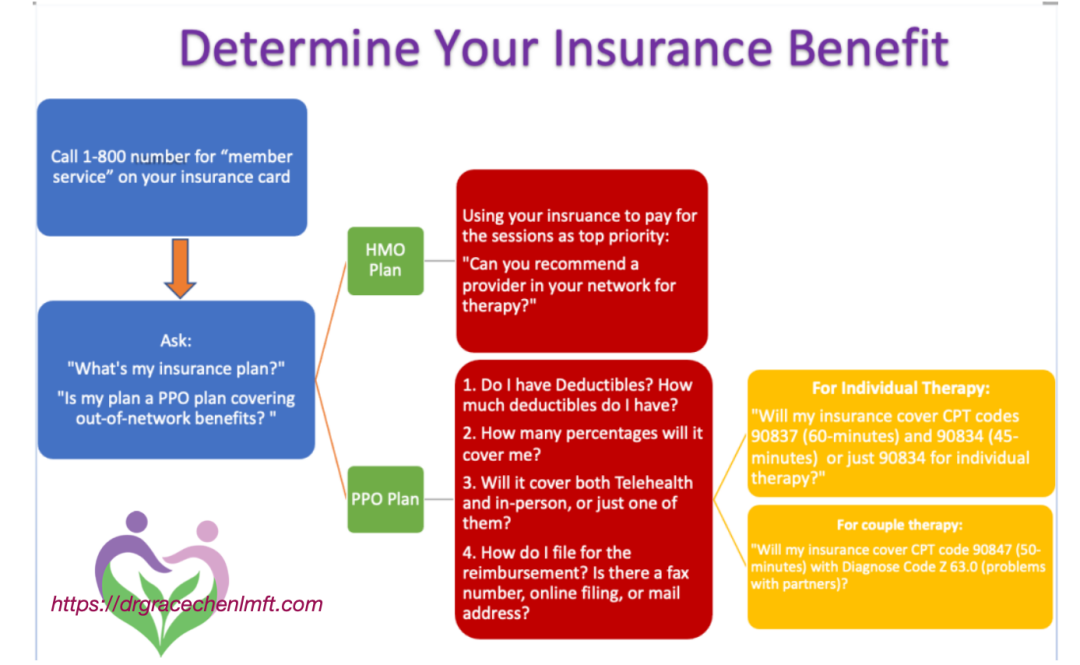 How long is a session, and how frequently do I go to counseling?
Each session is 50 minutes.
Usually, the counseling is one session a week unless there is an emergency.
If you are using the insurance, the coverage is usually once a week.
Can I get on your waiting list?
I can arrange the initial intake sessions within two weeks when I have availability to accept new clients. But, mainly, the motivation to participate in therapy for change is the highest when a client calls for a therapy appointment.
However, there is no way to predict the duration of a client's therapy process, making it hard to expect when I will have openings for the clients on the waiting list.
In addition, a waiting list is a binding contract with the clients. As a therapist, I will have to safeguard the confidentiality and privacy of the clients while agreeing to contact them, clients, when a time slot becomes available. However, a potential client's mental health or relationship might deteriorate while waiting to be seen.
Therefore, I don't have a waiting list for legal and ethical reasons. Please contact me later if you wish to do so.
Can I first see you for individual therapy and have my partner joins me later?
The answer is NO. I don't mix and match individual and couple therapy. It's a conflict of interests. Once I start seeing someone as an individual, I don't work with them as a couple except when the individual client is in a dangerous situation, such as suicide, and requires support from the spouse for extra support.
The reason for doing this is this: the couple relationship requires the therapist to stay connected and be trustworthy to both partners. Once I start seeing a person individually, we form a bond without the partner. Once the partner joins, it will make the partner feels as if I am aligned with my client before them. I don't mix and match couple and individual therapy. 
When I see a couple, I provide them the individual sessions if there is a need to do so, but I will see both partners individually to balance out my time with each partner.
How long does counseling usually take?
Counseling is usually once a week and 50-minute per session. It depends on the issues you bring in to decide how long it will take for you to be in counseling. At the beginning of the counseling, I suggest you come in as regularly as possible (once a week) for the first months because we need to get to know each other, assess your issue, and develop the treatment goals. Then, we can decide the frequency of the counseling and the duration of the counseling.
Usually, after a month, my clients often expressed "feeling better." I described this as "calming down from the crisis." However, the real work of change starts here. You might go through some ups and downs with your issue before you reach a "new equilibrium" of your psychological or relationship status. This might take a year or longer for some people who experienced complex trauma. For some sudden life crises, this might be a little bit shorter. Therefore, it all depends on the issues and the duration this issue has been going on.
Contact Form