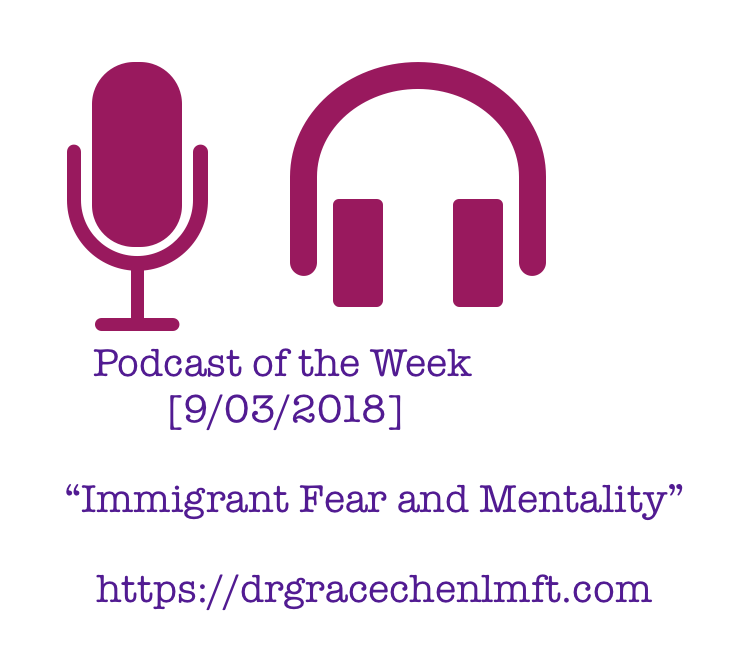 Do you listen to the podcast? I have to admit that I am really slow into the podcast world. I started to get hooked into listening to the podcast last year. I thought it would be fun to introduce some of the podcast/ episodes of the podcast that inspired me. Hope it inspired you too!
For the first podcast of the week, I want to share with you about the interview with Cal Fussman to Nely Galan. To be honest, I don't know these two people before I accidentally got into this podcast.
(Liste to the podcast before you continue.)

I was listening to another podcast when they mentioned Cal Fussman. Out of curiosity, I clicked into Cal Fussman's "Big Question" podcast. I was very curious about the title of the interview of Nely Galan, which is called "on Turning Pain to Profit" and that's how I stumbled into this episode of the podcast. There are a few essential points that touched and inspired me in this interview.
1) Immigrant Mentality
The immigrant mentality and the fear of the immigrant is the central theme throughout this interview.
At the beginning of the podcast, Ms. Nely Galan talked about her childhood as a Cuban Immigrant and how her parents were so scared when she got into the trouble in school. She then shifted to her personal work experiences when she was at the young age and how she learned to think big like any "Middle-Class White Americans" would do.
I was so touched by her stories and candid expression of her parents and her experiences. Being an immigrant and having to work with many immigrant children, her experiences were so similar to my clients' experiences. Many immigrant children searched the way to open the door for their families. They learn to be the communicator for their families and they discovered that their parents fear were real and understandable but not necessary the experiences for most of the "middle-class White Americans." From the very young age, these children learn that they not only have to support their parents with language translation but also have to be bigger and braver than their parents are to achieve better social status.
I am also touched and realized my personal immigrant fear and mentality. When I first moved to the US, I applied to the school. I learned this from my grandparents who grew up in the World War I & II Taiwan, controlled by Japanese. My grandparents always taught my mother and me that: the only way to survive when you are in the foreign country is your education. They showed us that: when you have the education and knowledge, people listen to you. So, I worked and studied to get my education.
Still, day in and day out, in my office, I encountered many immigrants who continue to live in this fear. I indeed hear them and can understand that fear. It can't be helped because we don't have the extended families to turn to and the fear is real!
When Ms. Galan talked about her friends reminded her that she is rich enough that she doesn't have to worry about money, and hence, she decided to go back to school, I realized the same thing. Nope, I am not rich. Yes, I still have to work and I know I work hard. However, she made me realize that I have achieved some financial and educational stability that I am actually wealthy psychologically! I don't have to live as if I was still a poor immigrant 15 years ago! I am fortunate because of the family legacy from my grandparents, and I am going to cherish this legacy while enjoying my psychological richness!
2) "I don't feel complete, but I am going to work as if I complete to give it to other women."
There are many points in this podcast touches me such as the section when she mentioned about it's OK to know nothing and to ask and the part where she emphasized the importance to complete what you are doing because that act of completion is how you build your self-esteem.
The most touching part was the last 5 minutes when she talked about asking Suze Orman writing the forward of her book for her. She described how scared she felt and the negative thoughts of: "whom do you think you are that this person would want to help you." She encouraged herself to do it no matter what. Two months after her book published, she called Suzie Oman and asked to return the favor. She said that Suze Orman said: "I am complete. I have everything I need. I want to help you more." Hence, Nely Galan said: "I have never felt complete. I want to feel so complete that I have it to give to other women. And that's what I am going to work the rest of the days. Even when I don't feel complete, I am going to work as if I feel complete."
My eyes are filled with tears at this point. For me, it 's not just about the multicultural women. It's about giving. I don't know if I am complete. Most of the time, I don't feel complete. However, I know that I have come a long way. My grandparents gave my mom, and my mom passed on to me. Because of their belief about education, I am so rich at where I am now. So, even though I don't feel complete, giving what I know and experience with people is such a privilege and compelling experiences.
Well, I hope you also enjoy this podcast as much as I did.
Links:
Cal Fussman podcast: The Big Question
Nely Galan's Book: Self Made & All the resources about "Self Made"