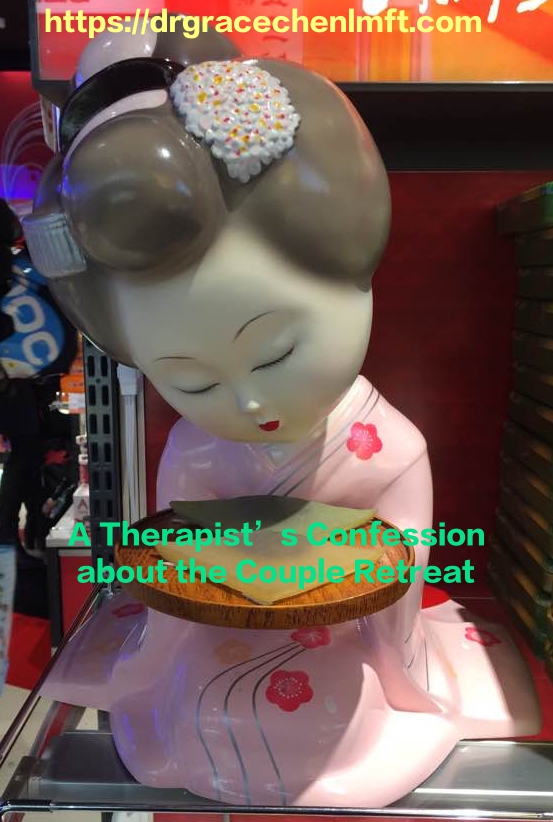 It's another weekend retreat finished. I come home with excitement but exhaustion. It's tiring, very tiring, to stay with a couple's emotions consistently for the entire weekend, 16 hours. However, in the end, it's all worth it.
At the end of the weekend, I am exhausted, really exhausted. I always feel like I just helped the couple gave birth to the new relationship after two days and 4 hours in labor. We were all exhausted but joyful to see the new possibility for this relationship.
To the couple that just finished the retreat with me, from the bottom of my heart, I want to say this to you: Congratulations for getting through this hard labor and I am looking forward to hearing your life with this new relationship you just give birth in our follow-up session.
For the couples that just check out this place, I have a confession to make, and I want to share with you the secret of the weekend retreat.
When I first learned about the couple's retreat from Gottman Training, my first response was: "What? Why do you want to do that? An hour with a distressed couple is hard enough to handle for a therapist. Why do you want to do it for an entire weekend?"
It turns out, that's exactly the reason why you want to it. Nowadays, when I try to explain to a couple who inquires about the weekend retreat, this is what I usually explain to them.
Reason # 1: One-hour session is designed for individuals, ONE person.
The "normal" couple therapy is one hour a week. However, that is designed originally for the individual therapy. If you know a little bit of the history of psychology, you know that, since Freud, the format of the individual therapy (45-50 minutes every week) has been the standard for different kinds of therapy models that come after. In recent years, to accommodate the health insurance requirement, the therapy format has to accommodate how the insurance company pays you. As a result, the couple's therapy is expected to operate the same way as the individual therapy. However, in the couple therapy, you have two people plus one relationship to focus on. So, can we have an effective couple's session in an hour?
Reason # 2: It's impossible to exhaust the discussion in an hour!
Also, no one goes to the couple's therapy when the relationship is on good terms. People go to the couple's therapy because the relationship is in dire of the change. When you go into the couple's therapy and times up before you both can give your perspective on the relationship history, the couple's issues, the conflict pattern, how do you feel? You probably walk out the session feeling defeated until next week. And the same pattern starts all over again: trying to give your perspective and the issues you fight about while the therapist tries to assess how you fight, and before you know, times up, AGAIN
I know this because I was once in the therapist's end. I had to rush the couple out of my office just when I finally figured out what was going on. Still, time is up, and the next couple is waiting. I reluctantly said goodbye to this couple and walked towards to the next one.
Reason # 3: One-hour session could possibly reinforce the negative interaction pattern.
Before you know, the process of therapy has just traumatized you with your typical negative interactional pattern, but you have not yet walked away with any concrete plan to change. Before you can see the improvement of your relationship, this "get-to-know-each-other" process has killed your desire to continue, but you haven't seen any change.
If you tend to withdraw from advocating for yourself and your perspective, or you tend to avoid the conflict, the weekly session is a sigh of relief because all you have to "suffer" is an hour and you have the entire week to get ready for another suffering (with no change)!
How Can Retreat Break the Cycle?
The first stage is the evaluation, thorough evaluation. In another word: you air your dirty laundry and get it over with. Through the "Gottman Couple Checkup," which contains about 1000 questions, you can share with me your perspective about you, your partner, and your relationship with no one around you. Then, you come to the retreat and talk about your relationship history, which is: how we get to where we are. Then, you talk about your perspective with your therapist individually, no pressure in front of your partner.
So, you get the dirty laundry out to your therapist, once for all. Then, I share with you my assessment and what we can do. You give me your confirmation whether I am accurate or not. After we agree on the plan, we start to work on it.
Getting to this point, wouldn't you want to give it a try to see what might happen? After all, you have participated in creating this blueprint!
The secret is: you have no place to run because you have signed up for the entire weekend! No matter you are comfortable or uncomfortable, agree or disagree, withdraw or defensive, you have to give it all. As the therapist, we are here to walk every step with you when you can or can't express yourself the way you want to be when you stuck, and when you work through.
So, here is my confession: yes, the design of retreat makes you face your relationship issues head-on. We, (you, your partner, and I) wear you out, and we break you. We make you have to give yourself 100% to make your communication work.
By the end of Sunday afternoon, we review our accomplishments and talk about the follow-up plan. It is a stressful weekend but you just successfully de-stressed your relationship Congratulations! You have begun to walk onto a new course of your relationship.
In case you haven't figured out the secret ingredients of our weekend retreat, they are the thorough assessment, consistent emotional engagement, and teamwork (all three of us). That's how we help the distressed couple to de-stress.
Are you ready to deliver?
Click to see the details of the retreat.
Want to know other things I learned from my retreat couples?
Click here to see my lesson learned from one of the couples.